OUR STORY
Cape & Fade a Bespoke Gentlemen's Grooming Club dedicated to providing
you with an affordably priced, unparalleled hairstyling and grooming
experience tailored to your lifestyle.
Cape & Fade is a destination where every man can refresh his mind and body,
replenish his energy, and network with friends and colleagues.
…
The spirit of excellence at Cape & Fade is maintained by a skilled team who
upholds the values of the brand and are supported by strong management
that lives and breathes perfection. Our dreams are unlimited and our
determination to protect and cherish the brand name and its values are the
core of our existence. Our promise is to offer our esteemed clients distinct and
differentiated services in a rapidly growing industry.
Find us on the first floor, Town Center Jumeirah Mall, Dubai.

More than just a barbershop…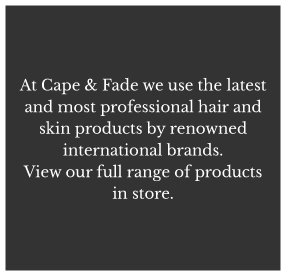 L'OREAL

SRS

AROSHA

FOOTLOGIX

DAPPER DAN

CAPT FAWCETTS

REDKEN BREWS
Home